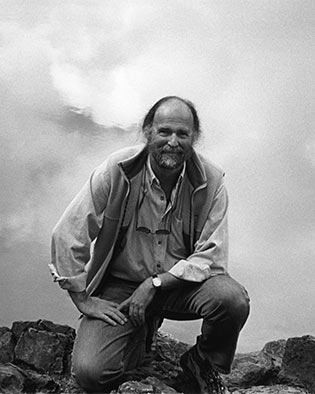 Tim McNulty is a poet, essayist, conservation activist, and nature writer. He was born and grew up in Connecticut's Quinnipiac River Valley and attended Northeastern University and the University of Massachusetts at Boston. There he met poet Denise Levertov who inspired him with her powerful fusion of visionary poetics and political activism. Tim traveled throughout the West after college and settled on the Olympic Peninsula in 1972. He lives with his wife, Mary Morgan, in the foothills of the Olympic Mountains above the Dungeness and Graywolf rivers. A passionate spokesman for the wild, Tim remains active in the Northwest environmental community.

Tim's poems, essays, criticism, and articles on nature and conservation have appeared in numerous publications in the U.S. and abroad. His natural history writings have been translated into German, Chinese, and Japanese. Tim has received the Washington State Book Award and National Outdoor Book Award among other honors. He reads, lectures, teaches, and conducts workshops throughout the Northwest.

Tim's poetry collections are: Ascendance (Pleasure Boat Studio, 2013), In Blue Mountain Dusk (Pleasure Boat Studio, 1992), and Pawtracks (Copper Canyon Press, 1978). He is the author of ten poetry chapbooks, including: Cloud Studies, Some Ducks, Through High Still Air, Reflected Light, Tundra Songs, As a Heron Unsettles a Shallow Pond, and Last Year's Poverty.

Tim's award-winning books on nature include: Olympic National Park: A Natural History (University of Washington Press), The Art of Nature (Fall River Press), Washington's Mount Rainier National Park (Mountaineers Books), Washington's Wild Rivers (Mountaineers Books), From the Air: Olympic Peninsula (Greywolf Publishers), Grand Teton: Where Lightning Walks and Grand Canyon: Window on the River of Time, among others.

Of his poetry, Tim writes,
"For as long as I can recall, I've found inspiration, meaning, and solace in the natural world. Poetry is the form that most closely evokes and articulates that experience. To be sure, my poems celebrate my own community of family and friends, but always within that larger natural community that sustains us."